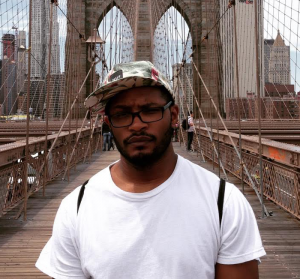 We interviewed the amazing Khary Randolph about his experience in the Comic Industry, tips for beginners, and what he's looking forward to when he arrives in Hawaii. Make sure to say hello to him this weekend at Comic Con Honolulu.
How did you first get into drawing comics?
I've been drawing from an early age, for as long as I can remember. It's the one (and pretty much only) thing I'm good at, haha.
What has been your favorite comic to draw?
It's usually whatever I am working on at the moment. I get so invested in what I'm doing at the time that it's all I care about. Right now it's We Are Robin for DC Comics.
Do you have any tips for aspiring artists who want to start their own comics?
The first tip is to do your research. Read Understand Comics by Scott McCloud, it's a good crash course in how comics are made. Then comes the hard part, actually making them. They're surprisingly not easy to make! But have fun with the process, finish what you start and stick with it. Be ready to make mistakes and to have some pages that aren't the best, knowing that you will learn something from each page you do and that the next will be better than the last.
Was there anything you were surprised about when first getting into the comic industry?
The most surprising thing is that even when you've made it in, that's just the beginning! It's hard work breaking in, but you still have to keep working just as hard to stay in because it's a competitive business and there are a thousand other talented people out there who are ready to take your spot if you're not on top of your game. So you have to keep learning, keep applying that knowledge, and understand what your strengths and weaknesses are. Oh and also make your deadlines!
What is your favorite art medium to work with when illustrating?
Easily pencil. I'm the most comfortable with a pencil in my hand. I'm pretty good with a computer as well, however. Not great with inks and brushes.
What do you want to do when you get to Hawaii?
Get some sun! I live in New York, so I haven't seen blue water in a long time! But seriously, I look forward to meeting and interacting with the fans. It's my favorite thing.