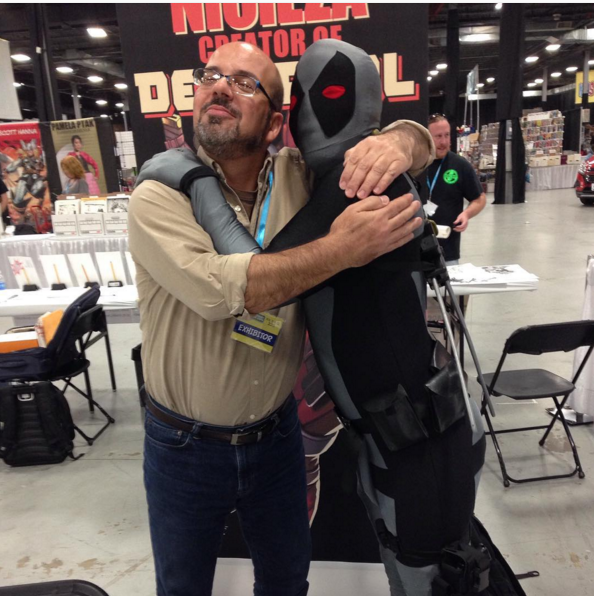 Writing/Editing
Over 1,000 comic book writing credits with over 200 million comics sold
Co-created DEADPOOL, the Merc with a Mouth; over 6 million comics sold, over 100 million YouTube video views and a FOX Feature Film starring Ryan Reynolds scheduled for February 2016
Worked as a editor or writer on major franchises for Marvel, DC, Dark Horse, and Disney; from Spider-Man to Superman, Barbie to Buffy, Winnie the Pooh to X-Men
Intellectual Property Creation & Management
Co-created, for the first time ever, an entire story world and in-pack promotion for Mattel's Hot Wheels: World Race across toys, video games, and television
Developed characters, concepts and show bible for Lucha Underground wrestling show currently airing on the El Rey Network
Co-founded and created FunGoPlay, a Webbie-nominated kids' virtual world
Spearheaded intellectual property development and strategic implementation for over a dozen major corporate franchises
In his career, Fabian has worked on for Marvel, DC, Dark Horse, Disney, Mattel, Hasbro, Ubisoft, Activision, and Sony on major franchise properties and characters including:
Avengers
Captain America
Iron Man
X-Men
X-Force
Deadpool
Cable
Spider-Man
Superman
Batman
Robin
Justice League
Barbie
Ren & Stimpy
Power Rangers
Buffy the Vampire Slayer
Disney Faeries
Winnie the Pooh
Pirates of the Caribbean
Halo
Transformers
Hot Wheels
Splinter Cell
Men in Black
James Cameron's Avatar
Teenage Mutant Ninja Turtles
Sony's The Amazing Spider-Man
And Many, Many More…
In 2015, Fabian wrote three titles for DC's CONVERGENCE event: Superboy, Titans and Justice League of America.
For Marvel he wrote the 5-part SECRET WARS limited series, AGE OF APOCALYPSE, an all-new look at a world he created 20 years ago, plus a return to the character he created DEADPOOL! Fabian and artist Reilly Brown reunited on a 6-part DEADPOOL & CABLE:SPLIT SECOND digital comic, with the 3-issue print version released in December – all of which leads into DEADPOOL's movie premiere in February 2016!