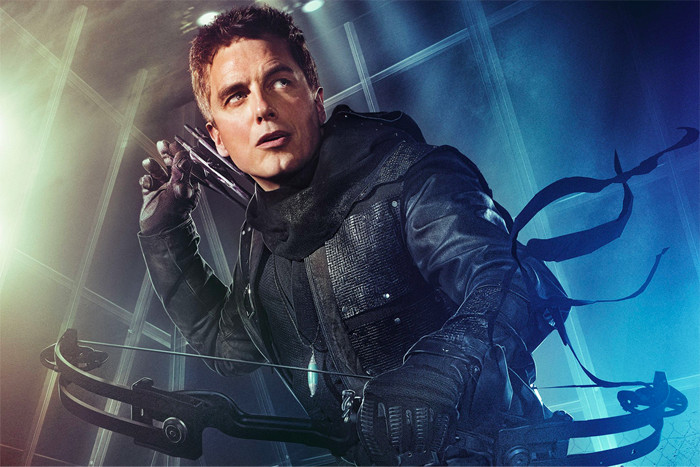 Autograph Information
Autographs: $40 per Auto
Photos: $40 per photo
Photo Session: $60 per photo
[sched sidebar="no" url="https://comicconhonolulu2016.sched.org/overview/type/Guest+Event/John+Barrowman"]Comic Con Honolulu Schedule[/sched]
John Barrowman is an Entertainer with a capital E. He sings, he dances, he acts, he presents, he judges – he is a unique talent in the entertainment industry on both sides of the Atlantic.
John can currently be seen in the regular role of Malcolm Merlyn (aka The Dark Archer) in the hit American drama series Arrow, based on the Green Arrow comic books. The show has been a huge success all over the world, and is aired in the UK on Sky 1 and on the CW network in the USA. He has appeared in all four seasons of the show.
He subsequently guested as Malcolm Merlyn in The Flash, and has also guested on the CW's hit historical drama Reign. Having guested on the hit American political drama Scandal for the ABC network, he hosted a major new entertainment series for the network, Sing Your Face Off. In the UK on Channel 4 he hosted Superstar Dogs (a game show for dogs) and The Small Animal Hospital with John Barrowman, which followed the work of Glasgow University Veterinary Hospital. He hosted two series of the BBC1 game show Pressure Pad and has hosted The National Lottery Awards on BBC1 three times.
Born on 11 March 1967 in Glasgow, where he spent his early years, John moved with his family to Illinois in the United States and later studied Musical Theatre at the US International University in San Diego, California.
In 1989, while in the UK to study Shakespeare as part of his university course, he landed his first professional role, starring as Billy Crocker opposite Elaine Paige in the Cole Porter musical Anything Goes. Since then, John's career as a leading man in musical theatre has seen him star in many West End shows, including Matador, Miss Saigon, The Phantom Of The Opera, and Sunset Boulevard. He also reprised the role of Joe Gillis in Sunset Boulevard on Broadway. Sam Mendes' premiere production of The Fix at the Donmar Warehouse garnered John an Olivier Award nomination as "Best Actor in a Musical", and in 2002 he returned to the role of Billy Crocker for the hugely successful National Theatre revival of Anything Goes.
He appeared in the West End most recently as Albin/Zaza in the Menier Chocolate Factory's award-winning production of La Cage Aux Folles, performing to full houses for nine weeks in 2009. This role won John the 2010 What's On Stage award for "Best Take-over in a Role".
John's initial work in American television drama saw him playing Peter Williams in the Aaron Spelling series Titans for NBC and starring in Darren Star's Central Park West for CBS. He returned to US television in Spring 2010 with a five-episode guest-starring role on ABC's Desperate Housewives.
His most famous television role is undoubtedly that of sci-fi hero Captain Jack Harkness, whose first appearance in the revamped Doctor Who on BBC1 created such an impact that he was given his own spin-off series, Torchwood.
The show achieved the best viewing figures ever on BBC America and has been broadcast around the world. For the fourth series, titled Torchwood: Miracle Day, the BBC teamed up with the US Starz Channel, filming in Wales and the UK. The show aired on the Starz Channel and BBC1 from July 2011.
On the big screen, John appeared in the major Hollywood movie Zero Dark Thirty and the 2013 family movie All Stars. Other film roles include the Lead Tenor in The Producers, Jack in the Cole Porter biopic De-Lovely and Ben in the cult classic Megalodon: Shark Attack 3.
Alongside his acting career, John has also hosted his own primetime Saturday night BBC1 entertainment show, Tonight's The Night, a co-production between the BBC and Barrowman Barker Productions, in which he made people's performance dreams come true.
Other shows he has presented include The Kids Are All Right, BBC's Live and Kicking, Children in Need for BBC Wales in 2008 and for BBC Scotland in 2010, and Keys to the Castle for US channel HGTV. In 2008, John was the subject of a BBC documentary, The Making of Me, in which he underwent tests and researched the science of homosexuality. He also hosts the children's show, Animals At Work, which is broadcast on CBBC and in Canada.
John was a judge on BBC1's Saturday night shows searching for new West End stars (How Do You Solve A Problem Like Maria?, Any Dream Will Do and I'd Do Anything), competed in the first series of the ITV celebrity skating show Dancing On Ice, stood in to present Elaine Paige's BBC Radio 2 show and has guested on numerous television chat and panel shows. On Christmas Day 2010, he was one of five celebrities competing to win the Strictly Come Dancing Christmas Special, partnering Kristina Rihanoff to victory with a sparkling quickstep.
John embarked on his third concert tour in October 2010 to promote his selftitled album John Barrowman, his third solo CD with Sony, following on from 2008's Another Side (which brought John a Gold Disc) and Music Music Music in 2009. He toured the UK and Ireland again in October and November 2011 to promote his CD, The Very Best of John Barrowman, which was released on 5 September 2011. In June 2012, he performed at open-air concerts in Scarborough and Glasgow, and at the Hampton Court Palace Festival. In 2014 he self-released the album You Raise Me Up, and undertook a 20 date UK concert tour to support the album.
In December 2010, John returned to his Scottish roots for his sixth panto outing, reprising the role of Aladdin at the Clyde Auditorium in Glasgow. John has since returned to Glasgow for the 2011-12 pantomime season to star as Robinson Crusoe in Robinson Crusoe and The Caribbean Pirates, the title role of Jack in Jack and the Beanstalk in 2012/13, Dick in Dick McWhittington and as Buttons in Cinderella.
In collaboration with his sister, Carole E Barrowman, John has released two volumes of his autobiography, Anything Goes and I Am What I Am, published by Michael O'Mara Books. In January 2008, Anything Goes reached number 2 in the Sunday Times bestsellers' list and remained in the list for twelve weeks.
A sci-fi/fantasy novel for young adults, Hollow Earth, co-authored by John and Carole, was published by Buster Books in 2012, with a second novel in the series Bone Quill in 2013. The third book in the series, The Book of Beasts, was published in 2014. A new trilogy starts with The Conjuror, published in May 2016. The Hollow Earth trilogy has been published in the USA by Aladdin Books (the children's division of Simon and Schuster. John and Carole have also collaborated on a Torchwood novel, Exodus Code, which was published in the UK in 2012, and in 2016 they started writing specific Malcolm Merlyn editions of the Arrow comics for DC Comics.